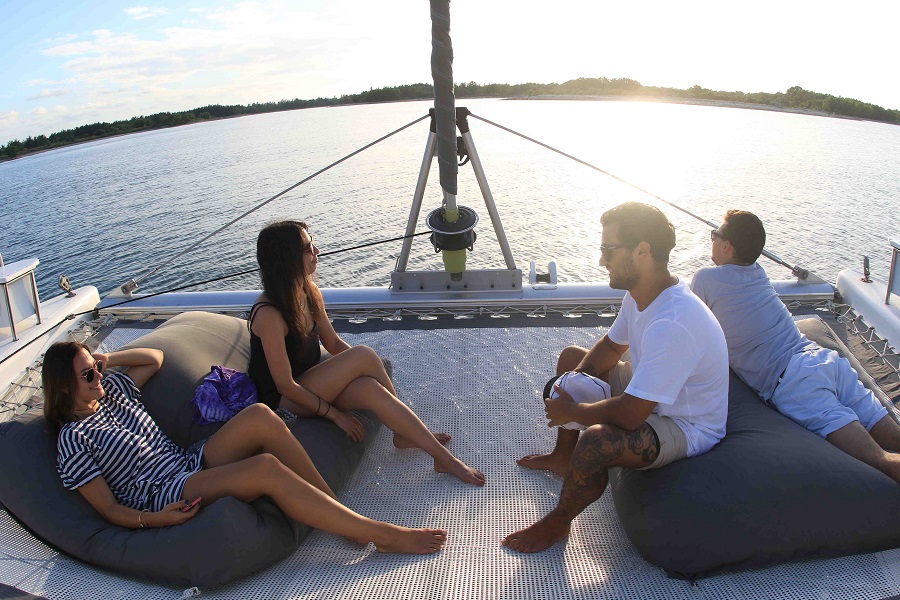 With Sailing cruises, we have outlined below all options for our 8hr Day Cruises, 4hr Morning Cruises and 4hr Sunset Cruises with various boat options to give you a complete overview of what experiences we can offer.
On your own private boat for the day you can choose to dive, snorkel, fish or surf or simply enjoy a brilliant day out relaxing on the waters discovering the neighbouring islands and beaches of Nusa Lembongan, Ceningan and Penida.
Please know that all our charters are private.  We do not operate tours or joined/shared groups with other people which means all our vessels and accompanying crew are privately yours and dedicated to you exclusively for the day and duration of your charter whether it is just 1 or 2 people or a private group you have arranged of your own personal friends/guests.
We have a number of vessels you can choose from to enjoy our experience, dependent on what style of boat you are after for your private charter.
Please see attached images and rates for Burjuman, Haruku, Jemme Cat  and Rhino.
Please also watch this short video to see some of our boats in motion (Burjuman, Haruku & Rhino)
To see Jemme Cat 43 in motion.
You may also visit our  Facebook Page or Instagram pages: Pulau Luxury Charters to view more images.  We have some great images & footage on our social media sites from recent trips on here that you may like to see.
RECOMMENDED VESSELS FOR PRIVATE CHARTER
The BURJUMAN is a glamorous 56ft fly bridge triple-deck super yacht imported from Italy. This magnificent Italian crafted vessel is like having your own luxury apartment on the water complete with a spacious air-conditioned saloon and dining area, fully equipped galley with stove, microwave, refrigerator, BBQ Grill on the Fly-Bridge, State of the Art Sound System, Vessel Wide WIFI, TV, DVD, Washing Machine and Ice-Maker plus  2 luxurious double staterooms with en-suites and 1 twin cabin with separate bathroom.  She provides  ample room to relax in the sun or shade over the three decks she offers.
JEMME CAT 43  – Our 43 foot/13 meter long sailing cat boasts 1120 square feet of sail making this vessel one of the fastest in her class. This triple-deck, twin-hulled beauty offers 4 cabins with en suite facilities ideal to sleep up to 6  guests overnight.  During the day, couples or families of up to 16 guests can enjoy her broad decks in the open air or in air-conditioned comfort. Guests can sunbathe on her large trampoline on giant bean bags or under a shaded canopy. The spacious cockpit at rear seats up to 16 guests along banquette seating and corner table.  The rooftop deck is perfect for sun worshippers who can relax & soak up the views on soft cushioned sun beds to tan or enjoy the views in open-air.   The rear platforms are perfect as staging points for aquatic playtime – snorkeling, diving, SUP boarding, fishing, kayaking & inner-tubing from behind the vessels super-fast mini speed boat. All rooms are complete with air-conditioning, fans, & TV's (2 cabins have DVD players), private bathrooms & pressurized hot water showers.  A freshwater outdoor shower on the deck is also refreshing extra. A TV in the main air-conditioned saloon, surround sound system for boat party entertainment and vessel wide WIFI are also features as is all the water equipment provided for snorkeling, diving, SUP, fishing, kayaking and inner-tubing. A U-shaped galley with all the modern conveniences to cook up almost any dish you desire is on the mid-deck adjacent to the saloon. The curved line design inside the saloon allows for ample seating around a central table offering panoramic views as you dine and sail.
The power cat HARUKU, is a 72ft/22 meter long-range expedition yacht.  Her 26ft/8 meter across the beam catamaran hull makes for super comfortable cruising amongst her broad and spacious decks which can entertain up to 20 guests if required for an amazing day cruise or sunset party.  She features a spacious fly bridge, upper helm station, and an open aft deck. There is a table with chairs for relaxing, entertaining or alfresco dining. Stairs on either side lead down to dual swim / dive platform for easy access to the waters and to make use of a range of watercrafts offered.  The main deck has space only a catamaran can offer. A center stairway leads below to an open salon with modern galley and plenty of dining and lounging space with a flat screen TV and Vessel Wide WIFI. Open, airy, and comfortable the main deck interior makes being inside in air-conditioned comfort feel like you are in your own apartment complete with a laundry, washer and linen storage. Three separate cabins comprise 1 x double master room with sofa bed & private en-suite plus two cabins (1 sleeps 4) the other sleeps up to 5 with a clever transposable extra king bed option & separate large bathroom.  This grand dame can accommodate  up to 11  guests for overnight charters or to rest in during the day.
Our 42ft Leisure Boat RHINO 1 uses three powerful 200HP outboard engines ensuring a most comfortable, safe and easy cruise to our destination. Rhino offers individual undercover cushioned banquette style seating down the sides of the cabin, an open deck at the bow and rear and a rooftop level for lazing in the sun,  as well as a freshwater shower and electric flush toilet and a great on board sound system for music. She is superbly comfortable for a great day out enjoying the waters.
OUR DAY CRUISE EXPERIENCE
Your experience with us begins with an 8:00am pick up from your villa or hotel in our air-conditioned vehicle and we will transport you to the Harbor for a 9am start (though as a private charter company we can customize a departure time to best suit you)  before we sail over to the islands of Lembongan, Penida and/or Ceningan, an approximate 55 – 65 minutes away from the mainland.  You will enjoy complimentary snacks, tropical fruits and an array of complimentary chilled beverages as you relax on board listening to ambient music whilst enjoying the spectacular scenery and if we are lucky, some dolphin spotting.
Once at one of our private moorings or coves you can snorkel in stunning bays with crystal clear waters, make use of our SUP Boards paddling past beautiful cliff ranges,  do some fun line fishing or loll about on our inflatable pontoon raft.  We are also equipped to additionally arrange Jet Skis at a surcharge if you would like to add this to the mix.
After cruising, snorkeling, fishing and swimming you may either enjoy a light lunch on board and/or you could be transported to lunch at Sandy Bay Beach Club – a great spot to enjoy fresh barbecued foods, cocktails and a swim in the oceanfront pool overlooking a beautiful beach, or at Hai Bar & Grill on the white sandy beach of Mushroom Bay, or a traditional Indonesian seafood/meats barbecue at Café Wayan on Celagi Beach in Tamarind Bay.
The on-shore lunch option is very popular with our guests as it gives them some island time and adds to the days experience.
Following lunch you can take another swim, snorkel, or simply discover the islands beaches and surrounding waters before departing Nusa Lembongan at approximately 4.00pm and arriving back to Serangan Harbour in Bali at approximately 5:00pm for return transfers to your hotel/villa accommodations.
Our Private Charters may include the following dependent on the type of charter, number of guests, activities desired, destination conditions on the day and which vessel you book:
Variety of Light Snacks, Whole & Sliced  Tropical Fruits, Soft Drinks, Water
Picnic style Lunch Bites (prepared by our own on site 'Temples Cafe') on board and/or;  optional Lunch on shore (consumption at any on shore venue is on personal account)
1 Case of Beer, 1 bottle Champagne, 2 bottles Wine (all charters except Rhino)
Snorkel Equipment in variety of adult and child sizes
Stand Up Paddle Board
Large Inflatable Sea Mattress/Floating Raft (except on Jemme Cat)
Kayak (Haruku & Jemme only)
Inner Tubing (Jemme only)
Diving Equipment *
Fishing Equipment for fun line fishing
Towels
Vessel wide WIFI/Vessel Wide Speakers/Music Player
Cruising Permits for all passengers
Boat Fuel & Certified Skipper and Crew/Host
Vessel to Shore Tenders
Life Jackets
Insurance
Return Hotel/Villa Transfers in a private air-conditioned vehicle (surcharge applies if outside Bali metro area)
Additional alcoholic beverages are available on board and paid on consumption.  You are also more than welcome to bring your own alcohol or any other food, snacks and beverage items on your charter at no surcharge/corkage fee should you choose which we will chill for you and/or serve.
Rates for a full Day Cruise aboard the Burjuman is USD $4950 for 1- 6  guests. Additional guests are USD 140 per person for up to 14 guests.
Rates for a full Day Cruise Charter aboard the Haruku is USD $3520 for 1- 10 guests.  Additional guests are $110 per person for up to 20 guests
Rates for a full Day Cruise aboard Jemme Cat 43 is USD $2050 for 1-10 guests. Additional guests are USD $110 per person for up to 16 guests.
Rates for a full Day Cruise aboard the Rhino is USD $825 for 1- 5 guests.  Additional guests are $85 per person for up to 14 guests.
After the base charter rate, Children 2yrs and under are free of charge.  Children 2yrs-5yrs are 50% off above rates and Children 5yrs and over are full price.
(All fees & charges are already included in the charter rates)
*Dive Experiences or Intro to Scuba Experience are also available at an additional $85 per person per dive.  PADI Dive Certification must be presented for experienced divers. Intro to Scuba/Discover Scuba Dive does not require any certification. Jet Ski hire is from our third party supplier once at the destination island, as such this is an optional extra and therefore includes a fuel /hire surcharge of $35 per person per 15min ride paid in cash on the day to the supplier, not PLC.  Advance notice is required upon booking should you wish to include any of the aforementioned.
LUNCH ON BOARD/SHORE OPTIONS:
For lunch on board you can enjoy a choice of picnic style lunch bites that we prepare from our on-site 'Temples Café' that is included in the price.  Most guests have this to munch on during the day regardless of whether or not they also go on shore for a sit down lunch.  We also include a variety of snacks, fruits, water and soft drinks throughout the day. Additional alcohol is also stocked on board and available for purchase to be paid on consumption should you choose.  You may also add on and bring your own snacks, foods, drinks, alcohol at no corkage or surcharge.
For onshore venues you can check the venues and menus here and choose which one you like in terms of look, feel and style– all are very reasonable in pricing and worth visiting for some land time.
Sandy Bay Beach Club has a great varied menu, is coastal chic and has a great beach vibe on the water with a beachfront pool that you can swim in and enjoy cocktails from. This venue is famous for the cliff views of the Devils Tear. The beach however is usually not a swimming beach as the waves and currents are strong. http://www.sandybaylembongan.com/
Hai Bar & Grill – is on the beach and a little more quiet and upmarket. It has a resort pool to use and the beach here is a swimming beach. http://haitidebeachresort.com/hai-bar-and-grill/
Cafe Wayan – (no website) – this is a local beachfront Indonesian 2 Storey 'Robinson Crusoe' style eatery which serves simple yet delicious and affordable freshly caught grilled seafood & meats (as well as many other options on the menu).  It is one of our guests favorite even though it is very laid back and simple in its décor and style.  Lunch is served upstairs on the open air balcony overlooking Celagi beach in Tamarind Bay. The food and views here are lovely. They also have a small pool should you wish to swim, however the pool is not beachfront.
HALF DAYS TO *NUSA LEMBONGAN/*PENIDA
Regarding lesser charter time or half day charters to Lembongan/Penida – they can be done and are do-able, however don't affect the rates by half as many would expect.  Namely because we use the same amount of fuel to reach and return to/from the island destination whether going for a full day or half day or a few hours, all your passenger cruising permit fees remain the same, crew, mooring, anchorage fees and stocking of vessel and equipment costs don't change, so if time permits it is better to take the full day if that is an option so that everyone can enjoy all the things offered on the days experience.
Please also bear in mind that it is an approximate 2hrs of total travel time (to & from) the snorkeling destination at the islands of Lembongan/Penida so on a half day (4hrs) – two of the hours would be spent getting there and back so will leave you with 2hrs to enjoy the islands and the water sport activities on offer, however will not give you time to disembark on land once at the island.
I know in theory it seems taking less time would equate to a cheaper rate, but unfortunately on a private charter it doesn't really matter about the time as such.  As explained above, our costs actually remain the same – namely it's because of the fuel.
Also, as a private charter company and not a public/shared tour company, we dedicate the boat to you for the day so we can't sell the remaining half day/hours as there is not enough turnaround time in one day between charters to clean and restock the boat, refuel the vessel and prepare the vessel for a new charter and get back to the island for a new set of guests.
HALF DAY (4HRS) MORNING OR SUNSET CRUISE EXPERIENCE AROUND BALI COASTLINE *NUSA DUA & *SANUR COASTLINES (See attached PDF's)
Our Morning Cruise usually depart at 9:00am and conclude at approximately 1:00pm.  The same activities as going to Nusa Lembongan/Penida are limited because of the destinations we cruise around are different.   You can still swim, fish and enjoy are giant inflatable play mattress/raft, SUP Boarding and do some snorkeling, however these destinations are not known as snorkeling or swimming sites (as are Nusa Penida/Lembongan).  There is also no beach access to alight to should you wish some shore time.
You can also try surfing (outside of Serangan) and depending on which vessel you take, waterskiing and wakeboarding or inner tubing –  or you can simply enjoy relaxing on the waters and enjoy the Bali coastline scenery.
Our SUNSET CRUISES usually depart at 4:00pm and conclude at 8:00pm which is usually  more than enough time for a sunset cruise in this area because of the limited water activity available.
Our Sunset Cruise typically unfolds as such:
In general this special evening begins with a complimentary glass of champagne on arrival as you are escorted on board the yacht. With a chilled drink in hand and a front row seat on the dazzling yachts bow or fly-bridge, you can indulge in all the yacht offers before setting sail to view Bali's mesmerizing sunset, mountain and coastal vistas.
This experience will take you through the Sanur and Nusa Dua waters on a gentle 4hr cruise as the sun prepares to set beneath the twinkling lights of the harbor. If you wish, we can cater for delicious canapés and gourmet bites to be served as ambient music is played through our state of the art sound system setting the perfect scene to compliment your special occasion to enjoy as the sun casts its glow over the island.
Our sunset cruise includes return transfers in our air-conditioned vehicles, personal Cruise Host, a bottle of Champagne, two bottles of Wine, and Beer. Additional alcohol is offered on each charter and chargeable on consumption. This private charter also includes a variety of light snacks, whole and sliced tropical fruits, Soft Drinks, Water, Towels, Cruising Permits for all passengers, Boat Fuel & Certified Skipper and Crew, and Vessel to Shore Tenders.
Other inclusions are fishing equipment, large inflatable play raft/mattress for floating about on water.
You are also more than welcome to bring your own alcohol or any other food, snacks and beverage items on your charter at no surcharge/corkage fee should you choose which we will chill for you and serve.
Morning or Late Afternoon/Sunset Cruises may include:
Variety of Light snacks, Whole & Sliced Tropical Fruits, Soft Drinks, Water
Beer, Champagne, Wine (capped allocation)
Snorkel Equipment (Morning Cruises only)
Stand Up Paddle Board (Morning Cruises only)
Large Inflatable Sea Mattress/Raft (except on Jemme Cat)
Fishing Equipment
Towels
WIFI (where signal available)
Sound System
Cruising Permits for all passengers
Host/Guide
Boat Fuel & Certified Skipper and Crew
Vessel to Shore Tenders
Life Jackets
Insurance
Return Hotel Transfers in air-conditioned private vehicle (surcharge applies if outside Bali metro area)
Rates for 4hr Morning or Sunset Cruise aboard Burjuman is USD $1980 for up to 4 guests.  Additional guests are $120 per person up to 14 guests
Rates for 4hr Morning or Sunset Cruise aboard Haruku is USD $1800 for 1-10 guests.  Additional guests are $120 per person up to 20 guests.
Rates for 4hr Morning or Sunset Cruise aboard Jemme Cat 43 is USD $1350 up to 6 guests.  Additional guests are $120 per person up to 16 guests.
Rates for 4hr Morning or Sunset Cruise aboard Rhino is USD 750 up to 6 guests.  Additional guests are $50 per person up to 14 guests.
CONDITIONS FOR ALL VESSELS on Morning or Sunset Cruises:
*Water Sport Activities are subject to weather conditions, number of guests & available only in Serangan Harbour
*Snorkeling, if conditions allow, is conducted on the Benoa Reefs (Morning Cruises only)
*Not all equipment is available on all charters and is vessel dependent. Please check with us upon booking.